We're excited to introduce our app, designed to make setting up your Friendship Lamp quicker and simpler than ever before! You've got two easy options: either scan the QR code below on your mobile device or search for "Friendship Lamps" on the App Store or Google Play Store to download the app and begin your setup process.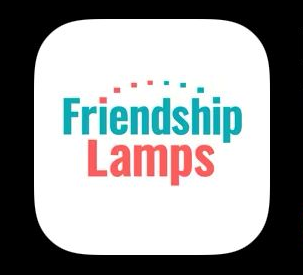 For this process, you'll need a mobile device to download our app and complete the setup steps to connect your Friendship Lamp to a 2.4 GHz Wi-Fi network. Our app setup is a fantastic choice for:
Those aiming to connect their lamp to a shared/public Wi-Fi network or hotspot.

Folks who can't access their router/modem or have no available LAN ports.

Individuals who faced connectivity hiccups with the bridge setup method

(P.S. Remember to unplug your Filimin Bridge for the app setup).
Don't have a mobile device handy? No worries! Our Advanced Setup method is here to save the day, working seamlessly on any wireless device.
Once you've opened the Friendship Lamp App, select "Wi-Fi Setup"
(Android shown below)
This brings you to the next screen, shown below. If you are connecting your lamp for the first time or reconnecting your Friendship Lamp to your wifi due to a power outage or because of changes like moving or getting a new router, select "Wi-fi Setup" to proceed with setup.
Alternatively, if your lamp is already online and you're eager to link it to the Friendship Lamp App for utilizing the Remote Touch Feature, choose "Use My Existing Lamp" to connect your lamp to your mobile device.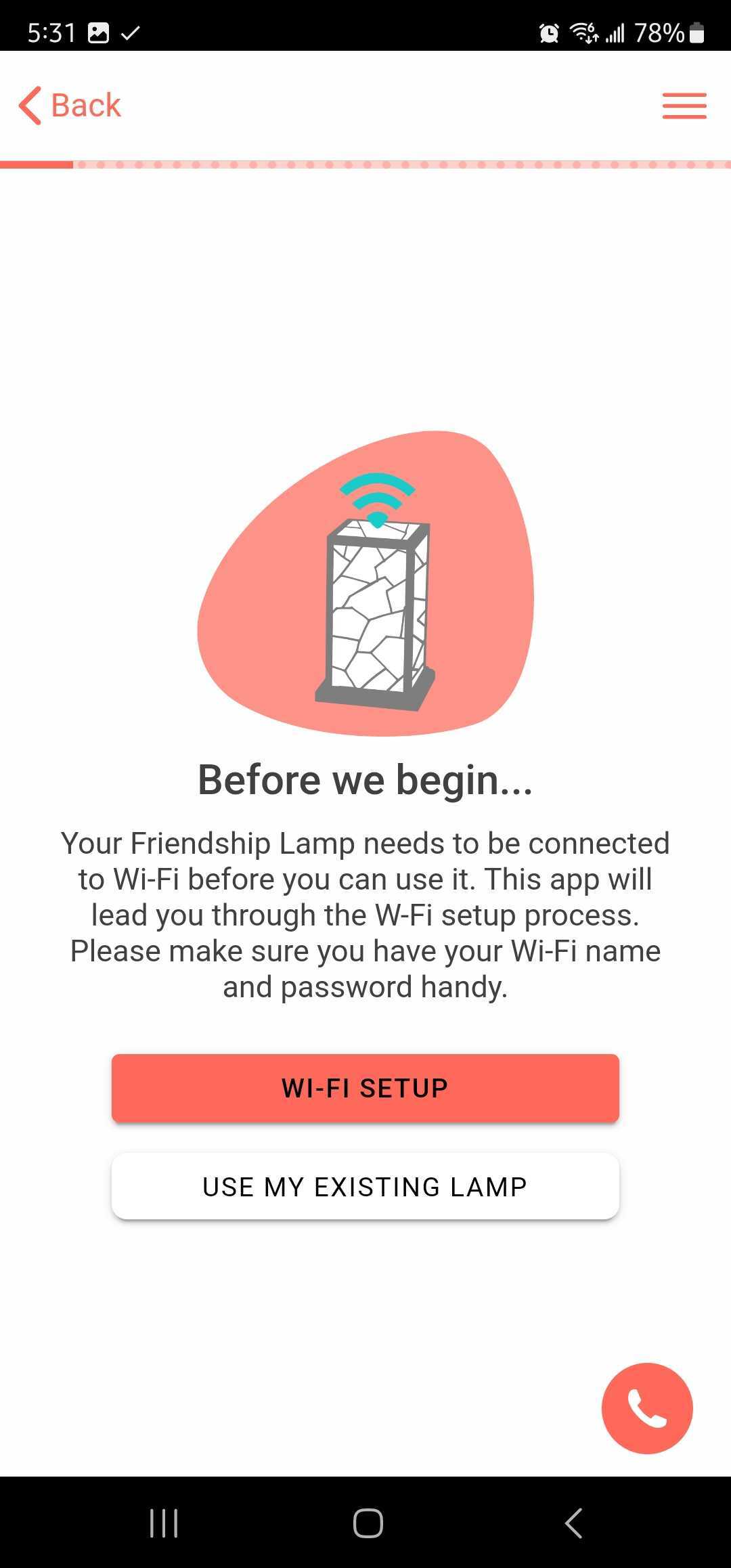 In this guide, we'll walk you through the setup process. The following screen provides a brief outline of the setup steps and the essential information you should prepare before continuing. Once you've got your Wi-Fi password ready and your lamp is blinking green, feel free to proceed by clicking on "Next."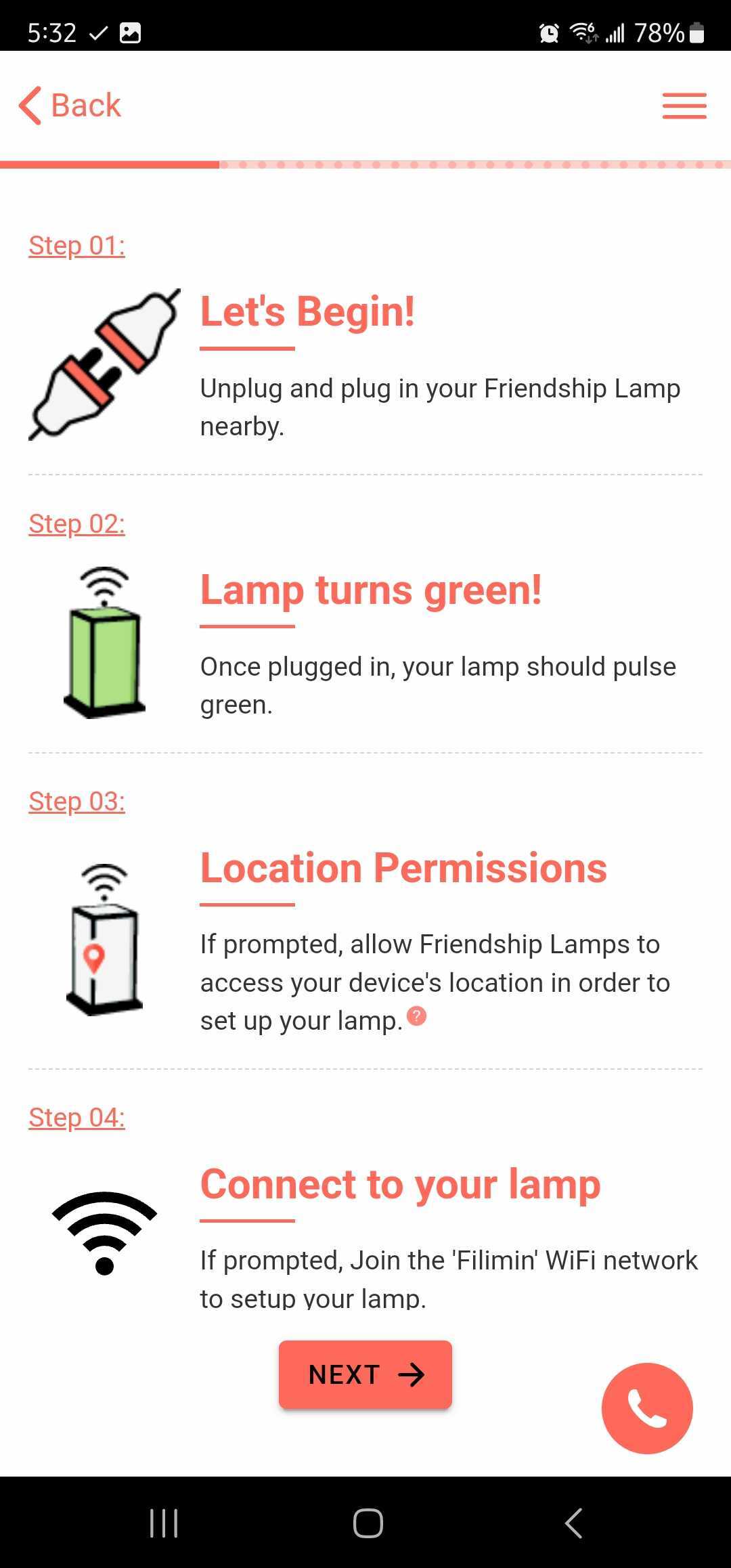 Continuing with the setup process, the next step is to enter your Friendship Lamp's ID into the app. There are three convenient options available: you can scan the barcode on your lamp using your mobile device's camera, manually input the lamp's ID, or use your mobile device's Bluetooth (ensure that Bluetooth is enabled for this option).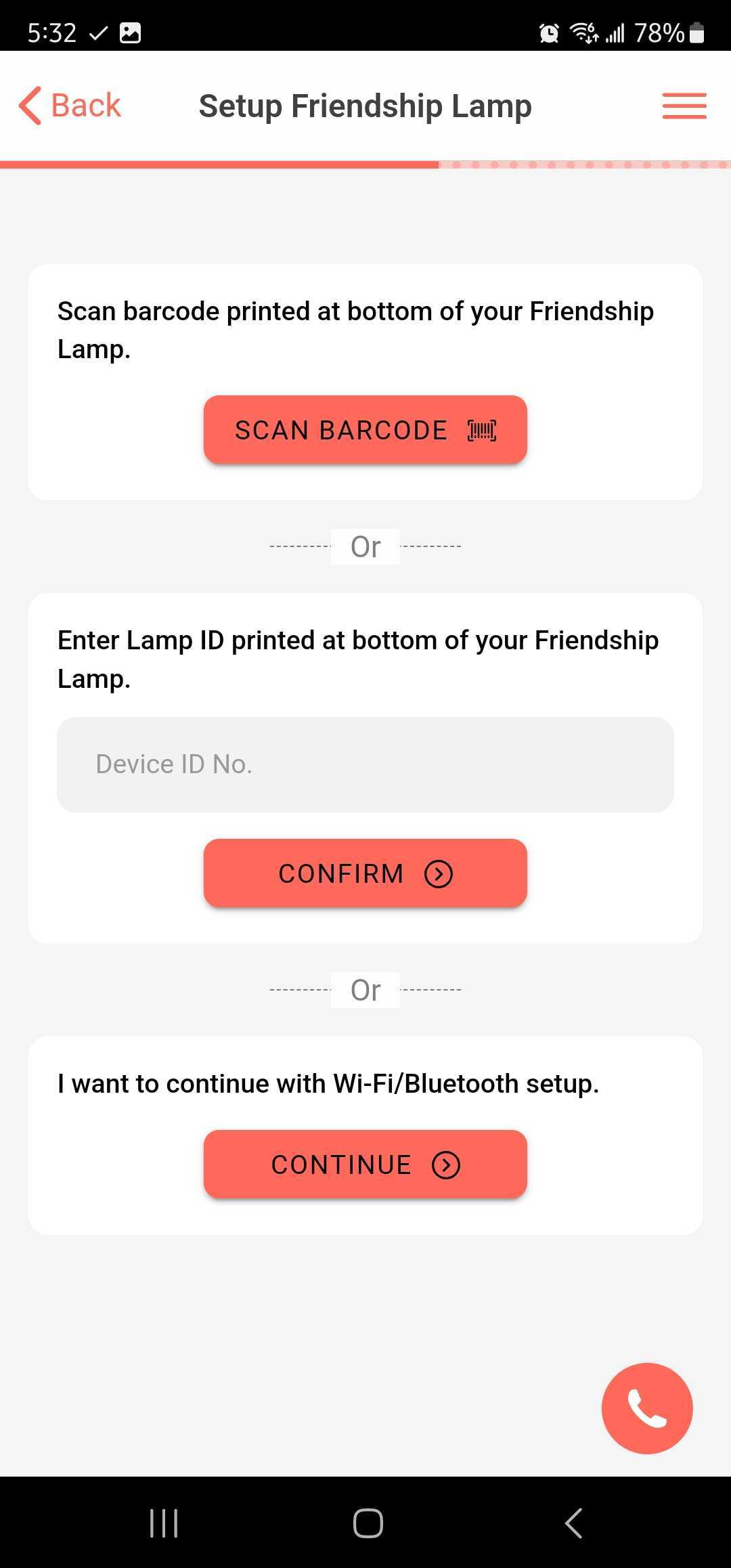 As the app finds your Friendship Lamp, it will guide you to the next screen while your lamp pulses a vibrant purple/violet color. This screen is where you input your Wi-Fi Network's name and password. We kindly suggest verifying the spelling, capitalization, and keeping an eye out for any sneaky extra spaces that mobile devices might slip in.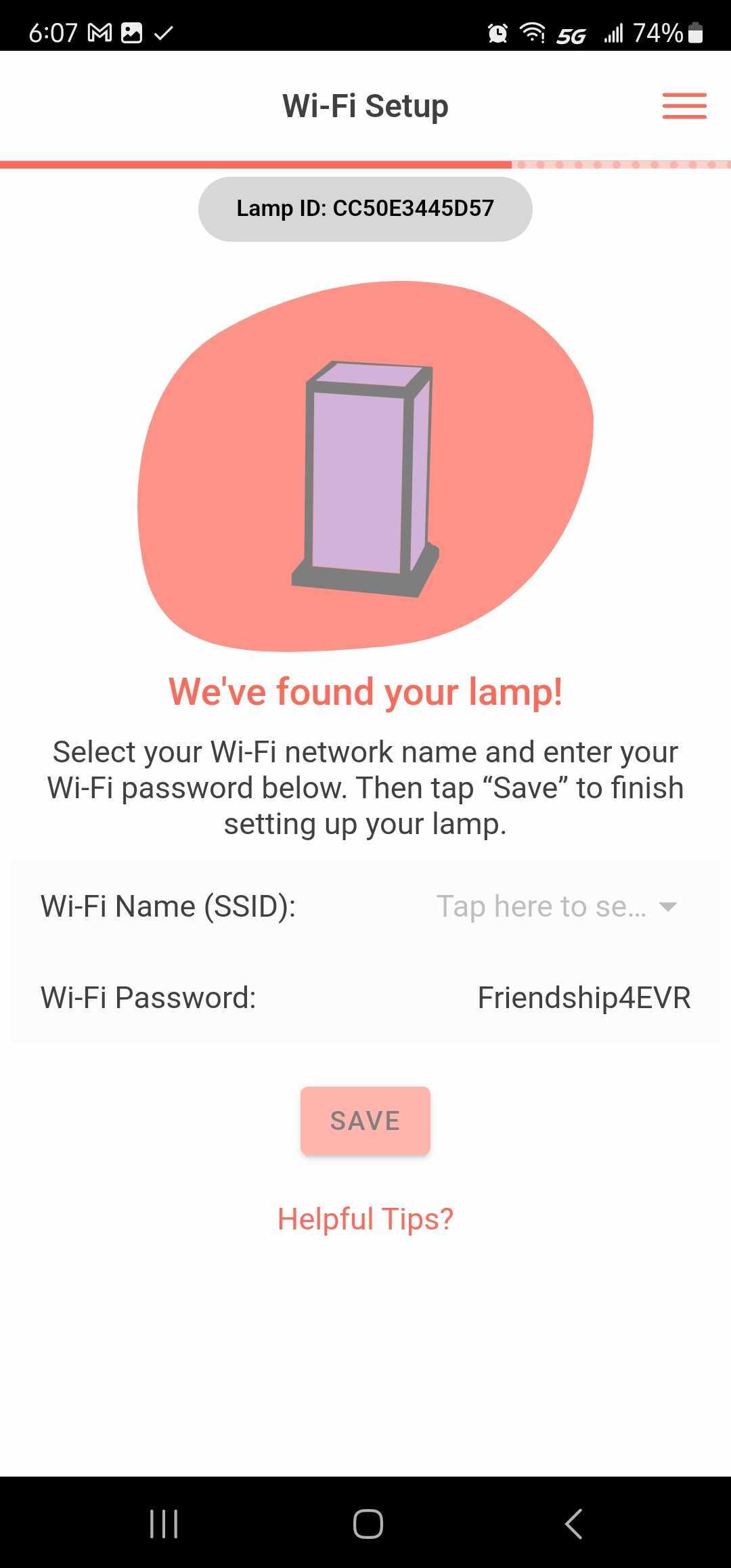 Once your Friendship Lamp is connected to your Wifi, you'll be prompted to subscribe and unlock the optional Remote Touch Feature. If you prefer to skip this step, just tap the three lines located in the top right corner and select "Home."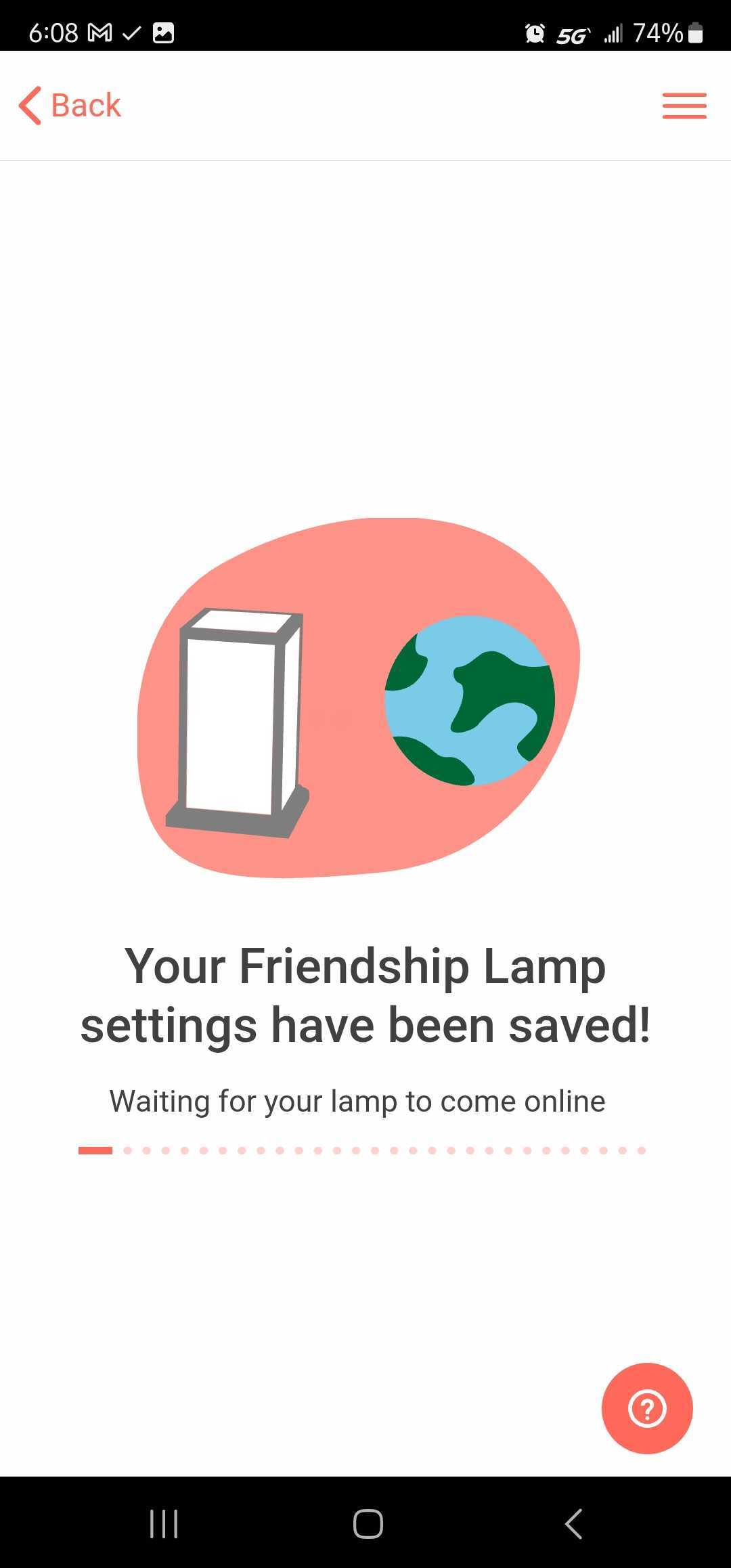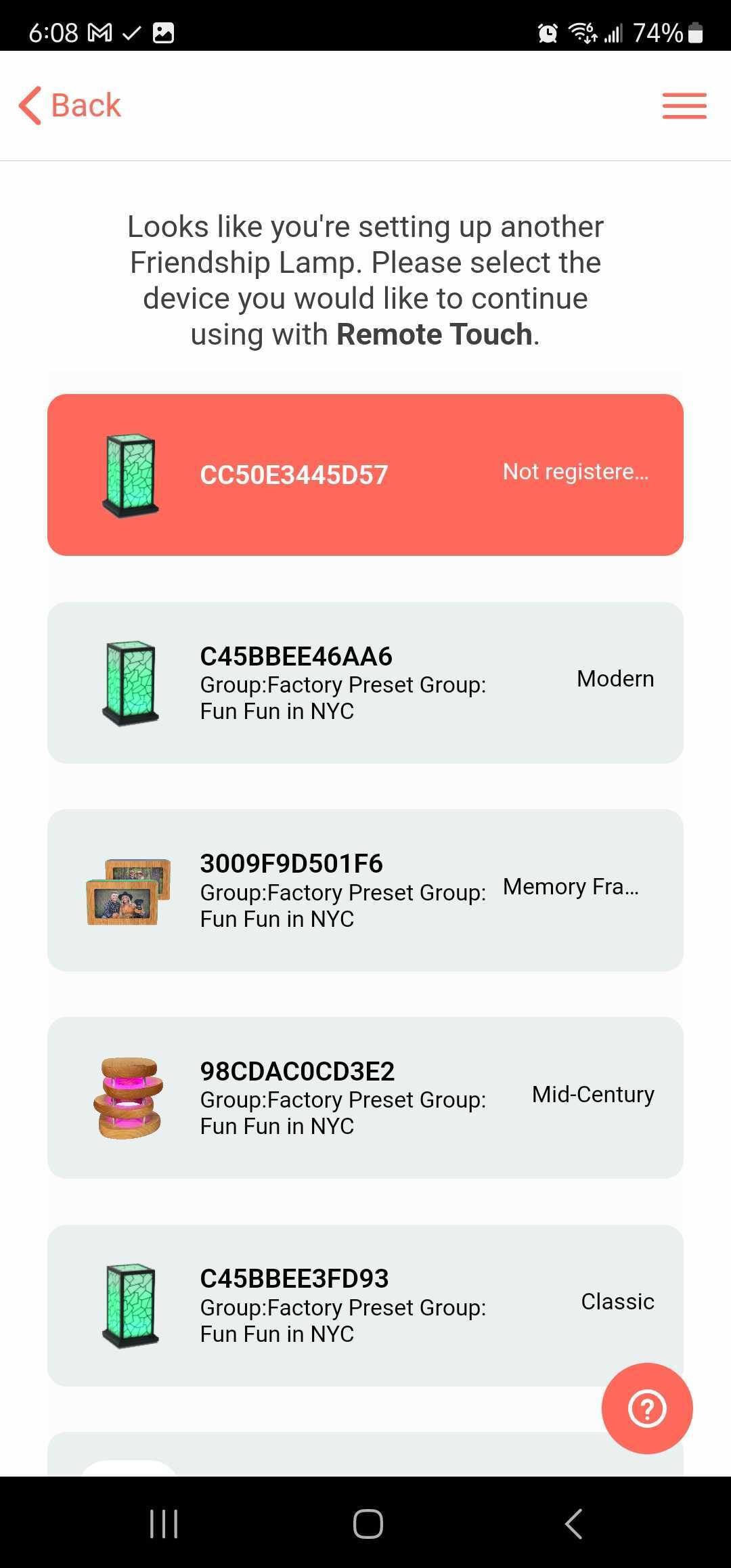 Congratulations! With your Friendship Lamp seamlessly linked to both your Wi-Fi and the Friendship Lamp App, you've now unlocked the "Friendship Lamp Manager" button within your app. Tapping this button will lead you to the website manager.filimin.com, where you can effortlessly set up your Filimin Account and personalize your Friendship Lamp to your heart's content.
Additional Tips for App Setup:
Position Powerfully: Keep your smartphone/tablet close to your lamp during setup for a seamless experience.

Get Closer: Move your lamp nearer to the router/modem for setup. After it's online, feel free to move it back to your favorite spot.

Perfect Timing: Plug in your lamp just before you begin the setup process. (Memory Frame owners, a quick tip: Let the Memory Frame's digital screen fully load for smooth sailing!)

Disconnect Data: Try turning off your device's Mobile/Cellular Data during setup. (Check out the attached pictures if you're not sure where to find it on your device, or simply dig into your device's Settings.)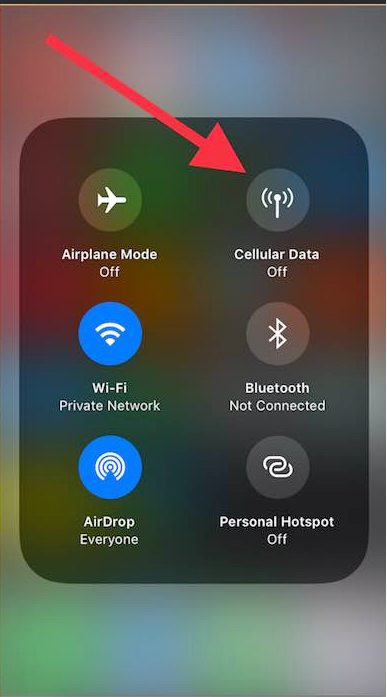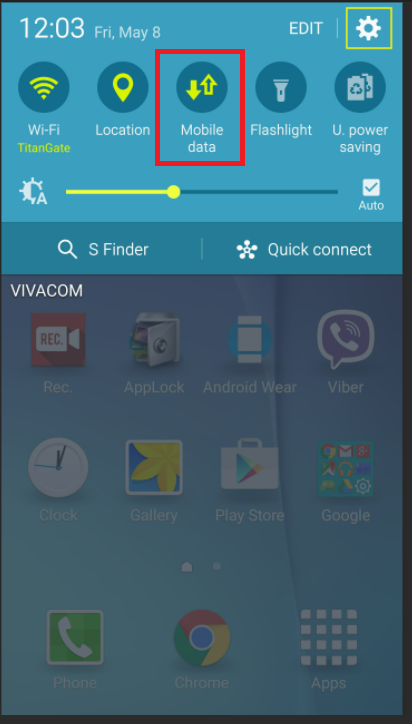 Or you can check on cellphone Settings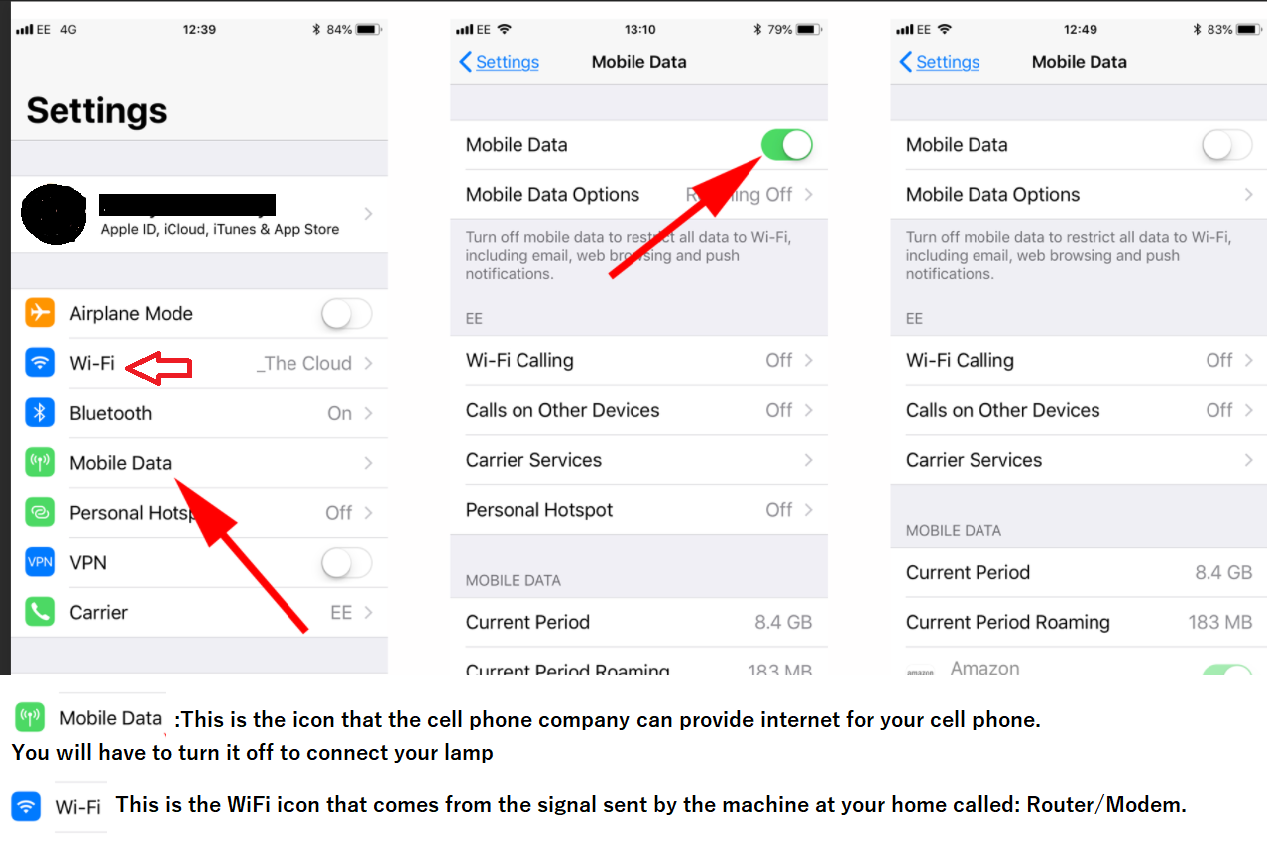 Stuck? Here's What to Do:
Connect Manually: In case you encounter the "We couldn't find your lamp" error, fret not. Head to your Wi-Fi settings and choose your lamp's ID from the list of available networks. For this network, the password is "I love you" (remember, capital letters and spaces are key). Once you're connected to the Filimin network, your lamp should be flashing a lively purple. Return to the app, punch in your Wi-Fi network and password, and then reconnect your device to your home Wi-Fi network to wrap up the rest of the setup.
If you find yourself in need of a guiding hand, don't hesitate to get in touch with us. We're here to make your Friendship Lamp setup a breeze!
Tags: friendship lamp setup, app setup, mobile app, wifi connection, advanced setup, troubleshooting, connectivity tips, lamp setup tips, filimin bridge, customer support, get connected, internet, online, configure, working, connect to wifi