Not sure if you have a Filimin Bridge? This article can help.
Did your Friendship Lamp come with a bridge? If your Friendship Lamp was manufactured from 2018-2021, it may have included a bridge kit. The kit includes your bridge, the bridge power cord, and an Ethernet cord. If it did come with a bridge kit, you have two options for setup: Bridge Setup and App Setup. (If your Friendship Lamp did not come with a bridge, click here for setup instructions.) The kit you received may look slightly different from the one pictured below, but it will contain the same three components.
Bridge Kit: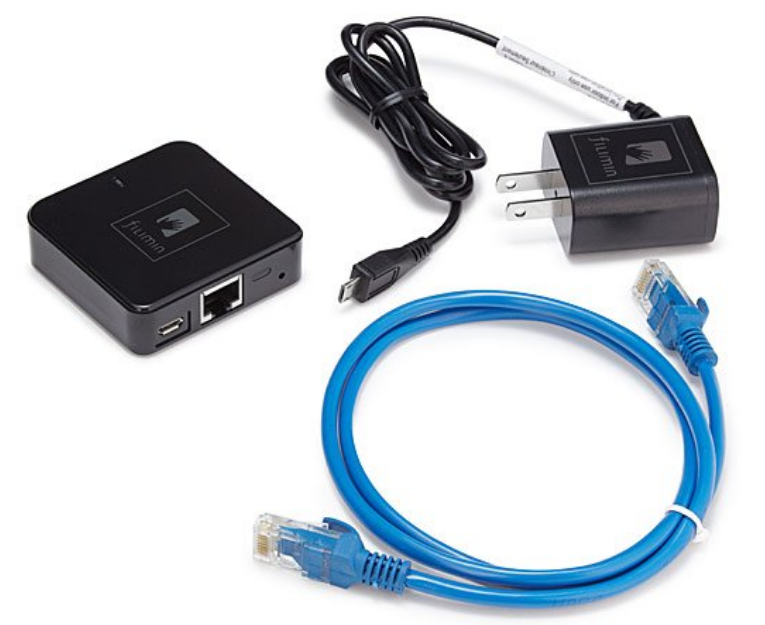 To use the bridge kit to connect your Friendship Lamp to Wifi, you'll need to plug the bridge into an open LAN port on your router or modem. The bridge will also need to be plugged into a power outlet.
This setup is perfect for:
Anyone who doesn't know their Wi-Fi password

Anyone who doesn't have any other wireless devices to do the bridgeless setup from

Anyone who uses a single-band 5 GHz router (no available 2.4 GHz network)
Before you begin, make sure you are close to your functioning Wi-Fi router or modem, have your Friendship Lamp, Filimin Bridge, the bridge's black power cord, and the bridge's Ethernet cord nearby.
Securely connect the Ethernet cord to your bridge and to your router. It should click into place.

Plug the black power cord into your bridge and into a power outlet.

Your bridge will now begin to boot up. This will take a few minutes. When your bridge shows a steady green light, you are ready for the next step.

Plug your Friendship Lamp into a power outlet nearby.

The lamp will boot up and automatically connect to the bridge to indirectly access your Wi-Fi network. When it has successfully connected, your lamp will glow a bright celebratory rainbow and then go dark, ready to send and receive touches!

At this point, if you would like to move your lamp to another location in your home, simply unplug your lamp and plug it back in at the desired location. Your lamp will repeat the last step and reconnect. Your bridge will need to stay plugged in for your Friendship Lamp to stay connected (unless you switch to our app setup).
TIP: UncommonGoods did a great video showing the process of setting up your Friendship Lamp with a Filimin Bridge. Watch the video here.
If you don't have access to a router, have no open LAN ports on your router or modem, don't want to use your bridge, or can't find where you put your bridge, you can still connect your Friendship Lamp with our app setup. (Be sure to unplug the bridge completely from the router and the electrical outlet and set them aside before continuing with this setup method.)
Did you buy your Friendship Lamp as a Set of Two?
Your Friendship Lamps are already grouped together and ready to communicate, no further customization is required, but there are optional customizations available inside your manager.filimin.com account. If you bought your lamp as a single, you can join another lamp's group (or create your own group and invite another lamp to join yours) by Registering Your Friendship Lamp. This free account gives you access to customizable settings like Colors, Fade time, and Sleep time.
Still having trouble? Please contact us and we will be happy to help!
Tags: bridge, OSS, One-step-setup, Setup, black box, using a filimin bridge