Welcome to the world of Friendship Lamps! Once you've connected your Friendship Lamp to Wi-Fi using the Friendship Lamp Connect App or Filimin Bridge (included in older models), you'll have the opportunity to personalize your experience by registering your lamp with a free account on our website, manager.filimin.com. If you've used our Advanced Setup during connection, you'll find that registration is already included in the process. Registering your lamp provides you with the power to customize its nickname, group settings, colors, sleep time, and fade time. It also lets you keep track of all the lamps in your group, including their online/offline status.
Here's how to get started:
Step 1: Login or Create an Account
To begin the registration process for your Friendship Lamp, head over to manager.filimin.com. If you're new to Friendship Lamps, click on "Sign up." Fill in your account details and hit "Register." For those who already have an account, simply log in using your email and account password. Alternatively, you can use your Facebook, Twitter, or Google credentials.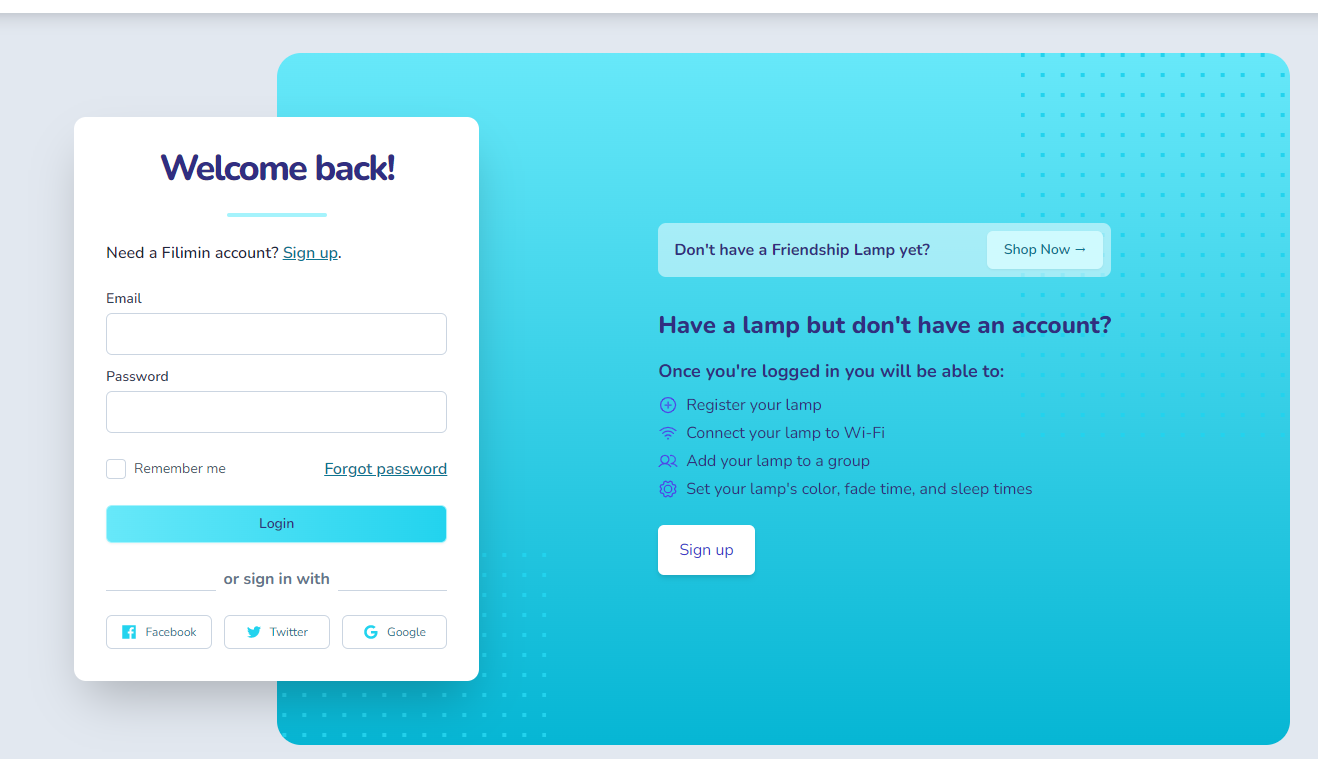 Step 2: Provide Device Info
Next up, enter the 12-digit Device ID specific to your Friendship Lamp. On lamps, you can locate this ID on the base, just below the barcode. For frames, you'll find the ID on the barcode sticker at the back. Make sure your lamp is connected and powered on. You can also give your lamp a personalized nickname here. Once done, click "Next."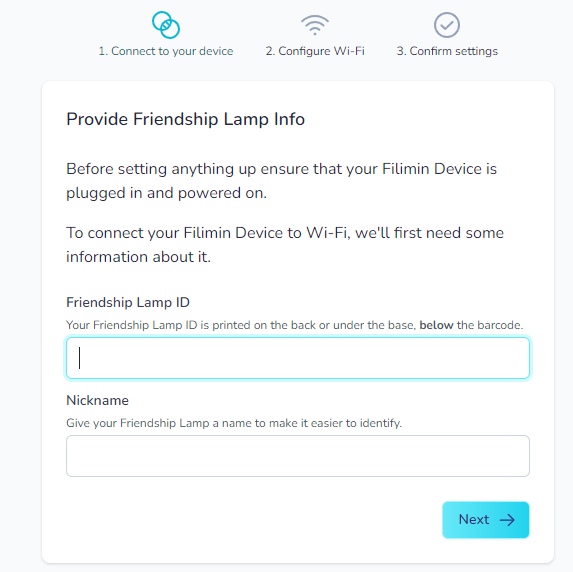 Step 3: Complete your Registration
If your Friendship Lamp is successfully connected to your Wi-Fi, you'll be prompted to tap it a few times for confirmation of its functionality. Each tap should result in a solid color illumination of your lamp that changes each time you tap it. Once the verification process is done, you'll be directed to your dashboard, where you can fine-tune your settings to your liking.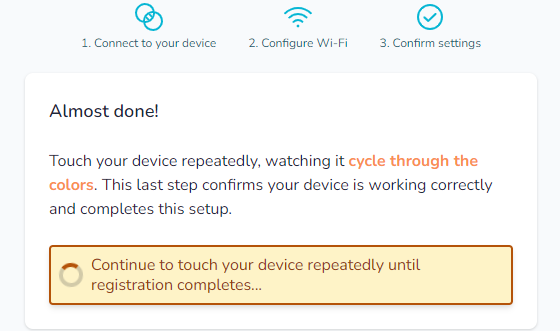 Once verification is complete, you will be redirected to your dashboard, where you can customize your settings.
Congratulations! You've successfully registered your Friendship Lamp, and now it's time to make it uniquely yours. If you're curious about Group Setup, Inviting Loved Ones, Choosing Lamp Colors, Setting Sleep and Fade Times, we have detailed articles that cover all these aspects.
Getting a message that your Friendship Lamp is not online yet? If you're using a Filimin bridge, please check to make sure your bridge is set up according to the guidelines in our Bridge Setup Guide. If you used the Friendship Lamp Connect app to set up your Friendship Lamp, our Color Status Codes can lend a helping hand.
Should you find yourself still facing challenges, please reach out to us. We're here and eager to provide you with the support you need!
Tags: register, account, filimin bridge, filimin, bridge, online, connect, group, pair, settings, setup, login, log_in, sign_in, lamp registration, friendship lamp, customizing settings, wi-fi setup, troubleshooting, account creation, device ID, personalization, support, assistance, registration