So you've just unpacked your new Filimin Device — awesome! But where do we go from here? There are two options for setup. This article can help you decide which one is best for you.
Option 1: Using a Filimin Bridge (Quick Setup)
This quick and easy setup option is our recommendation for most home environments
All new Friendship Lamps and Frames come with an included bridge kit. The kit includes your bridge, the bridge power cord, and an Ethernet cord. The kit you receive may look slightly different from the one pictured below, but it will contain the same three components.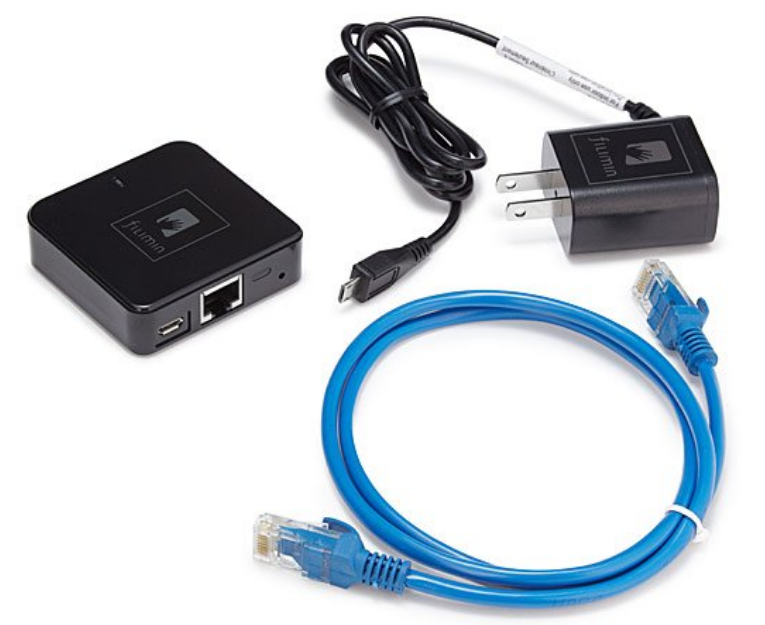 To use the bridge kit to connect your Filimin Device, you'll need to plug the bridge into an open LAN port on your router or modem. The bridge will also need to be plugged into a power outlet.
This setup is perfect for:
Anyone who's unsure about how to use our Manager website

Anyone who doesn't know their Wi-Fi password

Anyone who doesn't have any other wireless devices to do the Direct to Wi-Fi setup from

Anyone who uses a single-band 5 GHz router (no available 2.4 GHz network)
For full instructions, please see Connecting with the Filimin Bridge (Quick Setup).
Option 2: Direct to Wi-Fi Setup
This option is more adaptable to different Wi-Fi systems and does not require a bridge kit
Setting up your Filimin Device directly to Wi-Fi allows you to save your Wi-Fi network's name and password to your lamp or frame's memory. Once this information is saved, your Filimin Device will be able to access your network all by itself. This setup process requires you to have a wireless device (such as a smartphone, laptop, or tablet) that you can use to access our website and complete the setup steps to configure your Filimin Device to a 2.4 GHz Wi-Fi network.
This setup is perfect for:
Anyone wanting to set up their device to a shared/public Wi-Fi network or hotspot
Anyone who does not have access to their router/modem, or their router has no available LAN ports
Anyone who experienced connectivity issues with their Filimin Device when using the bridge setup method
For full instructions, please see Direct to Wi-Fi/Advanced Setup (no bridge).
Need help? Contact us for assistance!
Tags: get connected, internet, online, configure, working, connect to wifi