Most definitely! When ordering Friendship Lamps or Frames, usually the only available options are to purchase Sets of 2 or Single Add-on lamps. However, if you'd like to start a group with more than two people, we're happy to create a custom group for your order before shipping it to you! Please note that this option is only available for orders placed on Filimin.com and orders for Friendship Frames (not Classic or Modern lamps) on Amazon.com. If you're ordering from another platform (or if you're ordering Classic or Moderns lamps on Amazon.com) and would like to group together 3 or more devices, you can do so after receiving your order(s). For more information on how you can customize your device's group settings, please see Setting up Groups and Inviting a Loved One.
This article will explain how to have a group of 3 or more devices shipped to a single location. If you'd like the devices you order to be shipped to multiple locations, please see our article Can you ship my order to multiple locations? for more information.
Grouping Filimin.com orders
Add all the devices you'd like to order into your cart. This can be any combination of Sets or 2 or Single Add-ons. When you go to check out, use the "Special instructions" box (bottom left corner of your shopping cart) to request that all devices in your order be grouped together. Then proceed with checkout.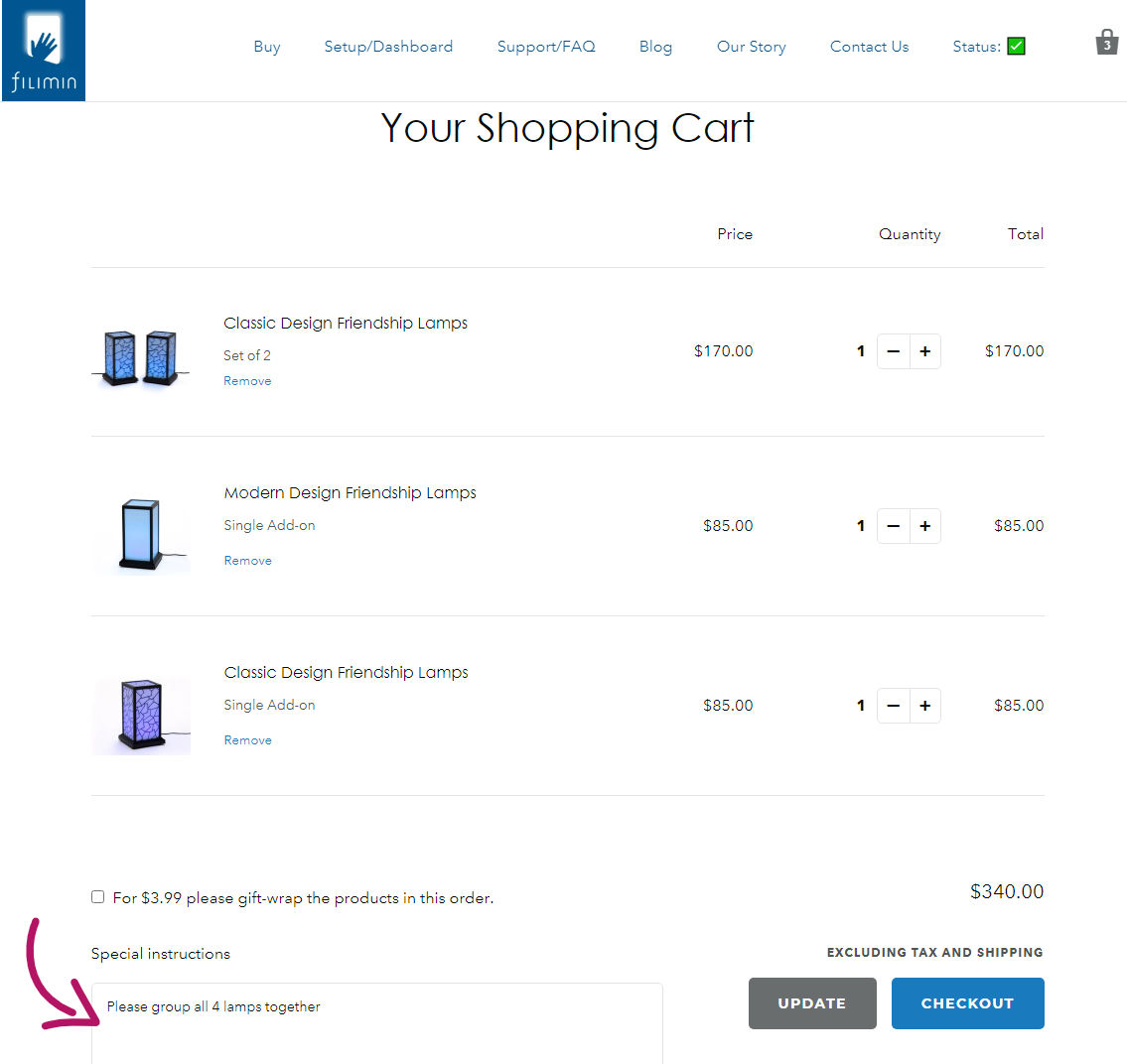 Grouping Amazon Friendship Frame orders
Add all the frames you'd like to order into your cart and place your order. This can be any combination of Sets or 2 or Single Frames. Immediately after placing your order, please contact our support team to request a custom grouping. You can message us on Amazon or email us directly at support@filimin.com. In your message, make sure to include your Amazon order number and let us know that you'd like all the frames in the order to be grouped together by our shipping team. We'll reply to let you know we've received your request.
Please note that we cannot pair new orders to Friendship Lamps that have already been configured by a customer. For more information, please see Can I add new devices to my existing group?.
Questions? We'd love to help! If you can't find what you're looking for in our knowledge base articles, don't hesitate to contact us!