How do colors work on my Filimin Device?
Right out of the box, your Filimin Device is set to produce 256 unique colors. Once your device is set up to Wi-Fi using our Filimin Bridge or our Direct to Wi-Fi Setup, your Friendship Lamp or Frame will respond to your touch by randomly selecting one of these colors to glow until the Fade Time completes or until it's touched again.
Being surprised with a new color each time your tap your Filimin Device is a wonderful way to stay connected, but it's not the only way! If you'd like to customize your device to only light up certain colors when you tap it, you'll first need to have your device registered to an account on manager.filimin.com (bridge users click here for registration help). If your device is already registered, continue to the instructions below.
Customizing your colors
Log in to your account on manager.filimin.com. You should be taken to your dashboard, which will show all the groups you're connected to and any devices you have registered.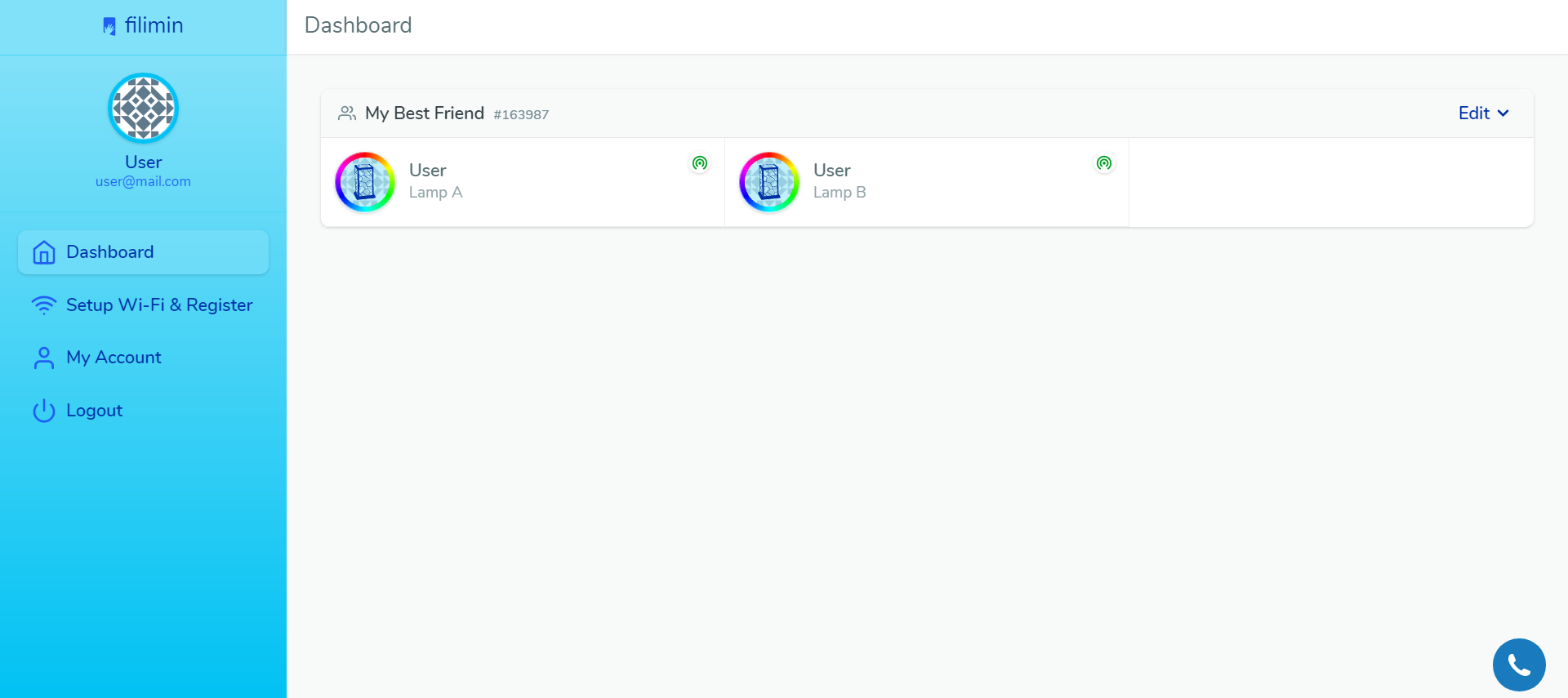 Click on the name of the device you would like to customize. You can customize any device that appears on your dashboard, even if you are not the owner. The "Edit device" window should appear and display that device's settings, including the Touch Color Range.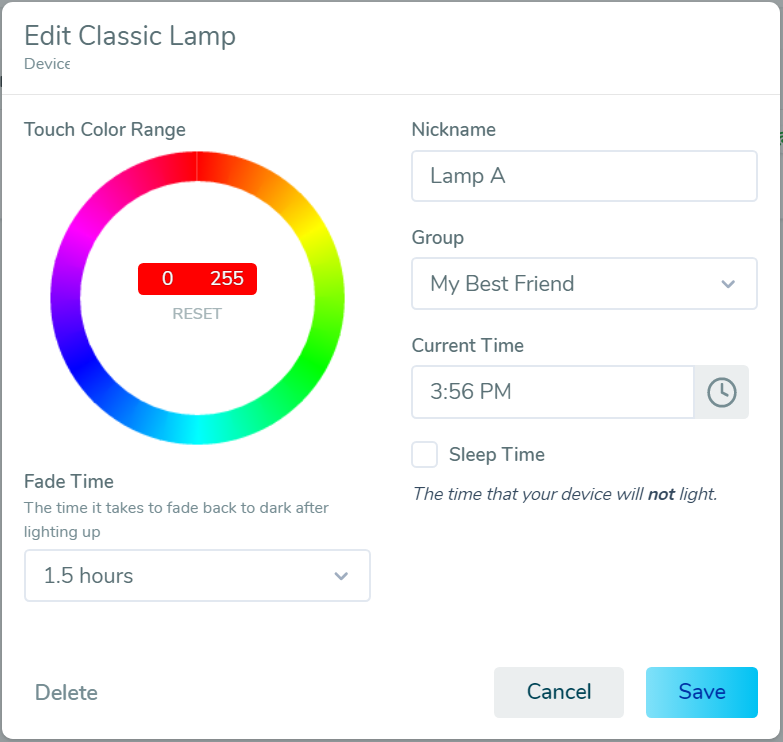 As a default, your touch color range will be set from 0-255 (all colors). This means that whenever you tap your Filimin Device, the device will randomly pick from one of these 256 shades to start glowing. You can edit which color(s) are selected by clicking and dragging around the circle to deselect certain shades (deselected colors will be grayed out, while selected colors will remain vivid). Clicking and dragging can be tricky on touch screens, so you can also edit your touch color range by typing in a range. In general, the ranges for each color are shown below:

Here's an example of what your touch color range may look like if you want to select blue: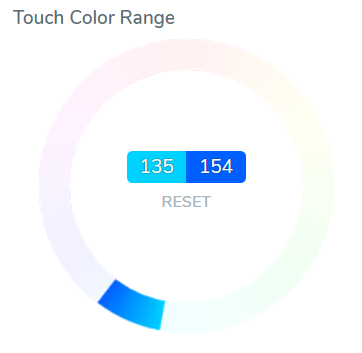 Please keep in mind that the wider the range you select, the more variation you'll see whenever you tap your device. With the selection above, for example, tapping the device could make it light up light blue or dark blue. The device will randomly select from all the shades included in your range each time you tap it. If you'd like your device to consistently light up the same shade when tapped, be sure to make a very narrow selection!
Once you've found a range you like, make sure to click the blue "Save" button. Give the Filimin Device a few seconds to update its settings, the go ahead and give it a tap to see if you like the colors you've selected! If you're not a fan, you can always go back and adjust the colors as needed.
Using colors in a group
When using your Friendship Lamp or Frame to stay connected to loved ones (especially big groups of them!) setting unique colors for each member can be a fun way to keep track of who just tapped their device.
Here we have a group of 3 best friends. Lamp A is set to pink, Lamp B is set to blue, and Lamp C is set to green.

When someone taps Lamp A, all three lamps will turn the same shade of pink at the exact same time (even if pink isn't part of their touch color range). Because Lamp A is the only lamp in this group with pink as an option, everyone in the group knows that Lamp A was the one that sent the touch! If Lamp B is tapped in response, all three lamps will turn blue, and if Lamp C is tapped next, they all turn green.
If you ever forget which colors belong to who, you can always log in to your account on manager.filimin.com and view each device's colors on your dashboard.
Questions? Please contact us and we will be happy to help!
Tags: Color, touch, tap, glow, light up, rainbow, select, choose, pick, red, orange, yellow, green, teal, turquoise, aqua, cyan, blue, indigo, purple, violet, magenta, pink